Renee M. Johnson | Federal Managers Association National President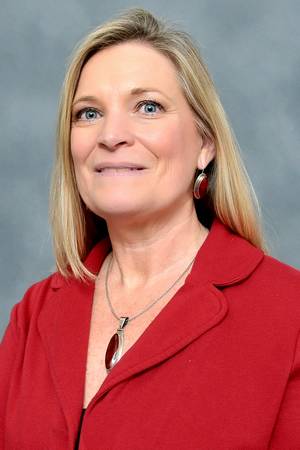 Renee M. Johnson was elected the National President of the Federal Managers Association in March 2016 and is serving her second term.
Renee is currently the Propulsion System Acquisition Program Management Lead for the F-35 Lightning II Joint Program Office (JPO), Arlington, Virginia. The F-35 Lightning II JPO is the Department of Defense's agency responsible for developing and acquiring the next-generation strike aircraft weapon system for the Air Force, Navy, Marine Corps, eight partner nations and foreign military sales participants.
Renee began her federal career in 1990 as a GS-1 in the Co-op Program at the Fleet Readiness Center (FRC) East in Cherry Point, North Carolina. She steadily progressed through the ranks into management roles within FRC East, ensuring that programs stayed on budget and on schedule. Renee managed the Component Program across FRC East Integrated Product Teams, with an annual budget that exceeded $300M. Renee was awarded the Navy Meritorious Civilian Service Award for her dedication, mission focus and exceptional service to FRC East and the Department of the Navy resulting in continued improvement to the development of Naval Aviation Enterprise component business practices.
Before her election to National President, Renee led her peers in FMA in various capacities:
- Chapter 21 Trustee: 2009-2010
- Chapter 21 President: 2010-2015
- Region 2 Vice Director: 2011-2014
- Region 2 Director: 2014-2016
- National Vice President: 2015-2016
While leading her local chapter, she received the Gil Guidry Award for Outstanding Chapter President in 2012 in recognition of her excellent leadership and dedication to FMA. Under Renee's leadership, Chapter 21 also received the President's Award for outstanding leadership and service to her facility, community, agency, and nation in 2013. In 2016, she was awarded the Odell Green Award, recognizing excellence of an FMA Executive Board Member.
She attended Mount Olive College in North Carolina, and graduated magna cum laude with a Bachelor of Science degree in Business Management. She received her Master's in Business Administration from Boston University.
Renee continues to strengthen FMA's relationships with the Administration, Congress, as well as other organizations, councils and coalitions, to better fight for excellence in public service. Renee lives in Alexandria, VA and commutes home, to the North Carolina Coast often to spend time with her husband, Tom, and their children and to spoil her granddaughter.
To contact Renee, email her at FMARenee@gmail.com.